How to Start a blog about books? The basic steps to creating a book reviews blog include Choosing a blogging platform i.e. (WordPress), Use a fully customizable WordPress Book blogging Theme, Pick a hosting platform, Select a blog name and domain , Setting up and designing your blog, Brainstorm blog topics, Write your first blog post, Create an editorial calendar.
In this article, I'll go into detail on how to set up a book blog and list the most popular WordPress book blogging themes. After reading this post you will know how to blog about book reviews.
Services: Looking For WordPress Development?
Book Blogs Examples:
Before you begin…
You don't need to know anything about coding, web design, or graphic design. It's not necessary, but it does help.
Also, because there are so many great free blogging options, you don't have to pay for expensive web hosting, a unique domain name, or even complex plugins.
You just need a computer, internet access, a love of reading, and a desire to learn.
You don't have to finish all of the steps below at once, so give yourself some time.
1. Choose A Blogging Platform
Decide if you want to use a paid or free blogging platform first. If you're on a low budget or aren't sure how long you'll keep writing free WordPress is a great place to start a Book reviews blog. Blogger and WordPress.com are the two most popular free platforms. You should analyze both CMS (content management system) and select the one that will be most useful to you, even though I like WordPress for its simplicity.
If you want to create a blog using WordPress: Follow the following steps.
Install free WordPress CMS
Change your blog design by picking a theme.
Install a couple of essential plugins.
Log in and write your first blog post.
2. Choose A WordPress Theme
Do you require additional assistance? You should think about how your blog looks and how easy it is to read. Choose (or buy) a theme that shows what your blog template focused on is user-friendly, etc. But make sure it's easy to navigate and the text can be read. (For example, color scheme, typography, and font size).
Keep in mind that you should follow copyright laws and only use photos for your blog's theme that you have paid to use.
Do make a list of the things you want your blog to have.
Don't choose a theme with too many options.
Do choose a theme that is mobile-friendly.
Do think about buying a paid theme
Don't pick a theme with a hard-to-read font. Instead, test the theme thoroughly.
3. Creates Basic Pages
To start adding new pages to your WordPress site, look for the Pages menu in the Navigation menu of your WordPress Dashboard. Click "Add New." Now, the page editor for WordPress will show up. With WordPress 5.0, a new editor called the WordPress Block Editor was added. This editor gives you a new way to add content to your new page.
Home Page
Create a Review Page
Contact us
About us
Privacy Policy
Disclaimer
Blog Page
4. Write A First Posts And Scheduled Ahead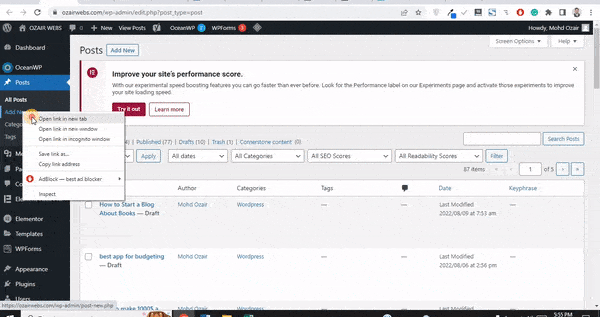 You'll need things to write about on your blog, of course. You can start by writing a short post about yourself and why you want to be a part of the book blogging community. (Here are some tips on how to write your first book blog post.) After that, your content will probably include book reviews, book discussions, book tags, etc. You can write some of these posts ahead of time.
Before your blog goes live, you might want to write at least three weeks' worth of posts. This will help you figure out how often you want to post (once a week, three times a week, etc.). This will save you from the stress of having to update often and from having to come up with content quickly. When new bloggers forget to schedule their posts before they go live, they often say that they are tired of blogging.
5. Choose Whether You Will Have A Rating System
Many, but not all, book bloggers use a ranking system in their reviews to quickly show their readers how much they liked the book they are talking about. Ratings have both pros and cons. For example, other people seem to like them (for instance, sometimes people seem to skip the review and just check the rating).
Must Read: Why Use a Star Rating Plugin for WordPress?
It was also fine. But whether you use them or not, you should definitely use them consistently from the start. You should also look at the picture of the rating. In fact, instead of stars, many people use other images that fit their theme, such as tea cups, animals, muffins, etc.
6. Read Your Competitor's Book Blogs
If you haven't read other book blogs before, now is a great time to start. In the blogosphere, there are rules, but there is always room for creativity. Find out what other bloggers are up to and what people might expect from your blog. It's great if you want to do something completely different and out of the ordinary because you'll know what you're doing.
7. Start A Review Archive Page
One of the first things I do when I visit a new book blog is browse through their past reviews. I'm curious in the blog's focus and whether the writer's opinions on books we both read are similar to mine. Create a page for your archive of reviews to make it simple for users to find your material. It can be sorted either by the author or by book title, depending on your preference. Additionally, you can create archive pages for any other content you frequently write and wish to organize by category.
ADVANCED SEO TIPS FOR BOOK BLOGGING
If you're super serious about getting traffic to your blog or becoming known in the book community, start thinking about search engine optimization (SEO) for your blog and creating timely and unique content.
Must Read: Best WordPress SEO Plugin
1. Complete These Quick SEO Tips
There is a lot of information online about how to improve your SEO and get more people to visit your site. Here are some quick ideas to get you started:
Make sure the ALT tags are on your photos. (To do this, use the media editor in WordPress.)
Image compression. An important part of SEO is making sure that your site loads quickly. If you often use large image files in your posts, you can use a site like compressjpeg.com to make your image files smaller.
Employ heading tag. Your blog post's title will be the H1 tag. Organize your post with H2, H3, and maybe even H4.
Use keyword phrases. Make sure the words you think people will use to search for your topic are used naturally in the content. For example, if you're reviewing a book, you should definitely say the title and the author's name more than once.
Utilize connections. To keep people reading and interested, point them to other relevant blog topics.
Update old information. If you become a popular blogger, make sure that none of your old posts get lost. If you've written an article that has a lively debate or a useful tutorial, update it and share it again on social media optimization.
2. Get Advanced Reader Copies (ARCS)
When you first start blogging, independent authors and publicists may contact you about reviewing their books. But if you want to get advanced reader copies (ARCs) from big publishers, your blog should probably be at least six months old. You'll also have to show publishers how well-known the book will be by sending them your average page views and the number of people who follow you. It can be helpful to update your blog often and let people comment on your posts.
Some publishers ask bloggers to fill out specific forms to request ARCs because they don't want to be bothered by emails about ARC requests.
3. Think About Getting A Co-Blogger
I've been predicting that book bloggers who really want to grow or even make money from their blogs might want to co-blog as the responsibilities of "big" book bloggers grow.
Since people expect book bloggers to …
You could want a co-blogger to assist if you don't have the time, the necessary abilities, or the desire to accomplish it on your own. Find out the questions you should pose to potential co-bloggers if this idea appeals to you.
Best WordPress book blogs Theme – Journal Blog
Choose a theme for your website from the curated list of the top WordPress themes for authors below.
stylish and up-to-date Bookstore is a WordPress theme for writers and journalists that has a modern look and is easy to use. It was made with authors and well-known bloggers in mind. The theme also has an interface that authors and copywriters can use to show off their skills.
This theme works with WooCommerce, so you can use it to sell books and other items that go with them. Our Blog or Writers has a lot of customizable features that make it great for magazines and podcasters who want to share content with their audience.
Some of the great plug-ins that work with this theme are the Events Calendar, the Revolution Slider, and the Elegro Crypto Payment. Also, you can make any kind of layout you want with WooCommerce, MailChimp for WordPress, and Elementor Page Builder. The theme is 100% responsive and ready for Retina displays.
5 wonderful homepage layouts
5 awesome blog styles
Event management
Awesome premade modules: About, Photo gallery, etc
Full Woocommerce store compatibility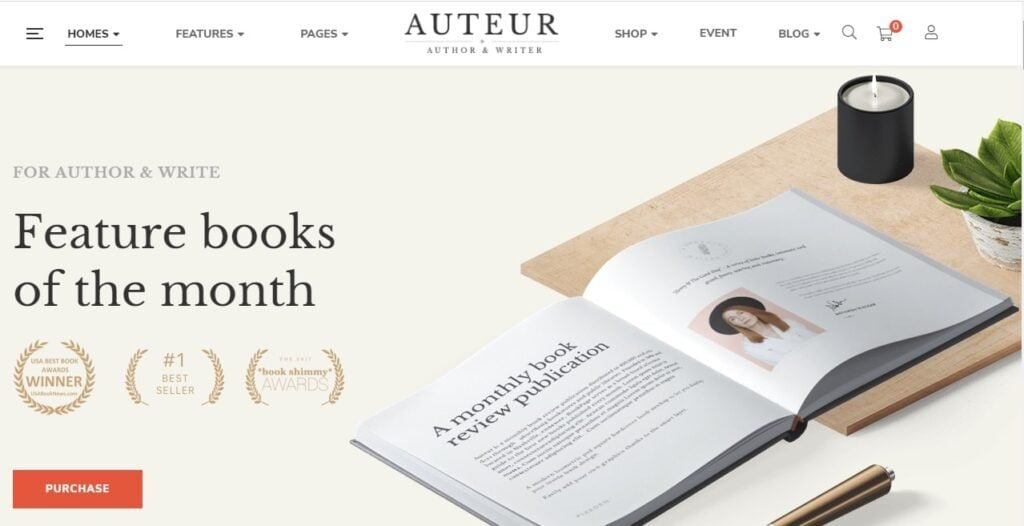 Auteur is a beautiful WordPress theme that can be used by authors, bloggers, reviewers, publishers, book distributors, book stores, and anyone else whose job involves writing or other services related to books. It was meant for authors and well-known bloggers. The theme looks elegant, has a smooth user interface, and gives a great user experience. There are also premium plugins like WPBakery Page Builder and Slider Revolution, as well as a large number of shortcodes, that can help you build a professional website.
Auteur has a lot of powerful options and features that let you build a professional website without touching any code.
The best WordPress theme is Cetera, which is perfect for anyone in the publishing, publishing-related, book distribution, book store, or writing industries. Cetera stands out because it has eCommerce features that show off books, spread knowledge, and increase sales. This theme comes with all the necessary source files, which you can easily change or add to. It has at least five beautiful homepages and many different layouts, such as layouts for shops, product pages, and blogs.
Must Read: Best selling WordPress Theme
Conclusion
To summarize, a book blog is a site that is regularly updated with book-related information written in a conversational writing style.
There are numerous reasons to begin a book blog. First and foremost, if reading is your passion, you should create a book blog.
Start a book blog if you want to: recommend books and authors, write book reviews, discover an outlet for self-expression, enhance your writing abilities, be part of a book community, or make a living from your love of books.
We've also divided the book blogging instruction into ten steps:
Determine your target audience
Select a book blogging angle and niche
Choose the correct blogging platform
Register your domain name
Select a web design theme
Personalize your book blog
Upload and categories content
Install essential plugins
Publish and market your blog
Affiliate connections, ad space, sponsored posts, selling physical and digital products, and freelance writing are all options for book bloggers to monetize their sites.
We also talked about four qualities of effective book blogs: the ability to be original and personal, to have attention-grabbing post headers, to provide regular updates, and to display postings in reverse chronological order.
Now that you know how to create a book blog, you should get started right away. Best of Luck!
Need Help Please CONTACT US for any quries.