Discover the top SEO plugins for WordPress, complete with comprehensive reviews, pros, cons, pricing, and select the ideal one to enhance your search engine rankings.
Every WordPress website owner recognizes the critical role of SEO plugins in boosting their site's ranking , whether it's a blog, e-commerce store, or business website. The more effectively your site is optimized for search engines, the higher it will rank on Google.
WordPress is a highly dependable content management system (CMS) that offers numerous features 'out of the box.' However, it doesn't include any additional built-in functionality for SEO.
Furthermore, you should concentrate on other factors besides site speed optimization, such as content readability, effective use of focus keywords, SEO metadata, and image file sizes.
You can access all these features in a single solution—a dedicated SEO plugin for WordPress.
However, with countless plugins available, choosing the right one can be daunting.
How do you identify the best WordPress SEO plugin for your needs?
To select the perfect WordPress SEO plugin, I recommend using these two strategies:
If you lack experience or expertise in SEO, focus on the plugin's ease of use and its functionality. Pay attention to how the plugin analyzes your content and offers suggestions for improving rankings.
If you're an experienced SEO professional, look for more advanced features in addition to the ones listed above. Examine how customizable the plugin is in terms of SERP ranking, as this will require more functionality than a basic SEO plugin provides.
Explore the best SEO plugins for WordPress to enhance various aspects of your website's SEO, optimize your site's speed, and boost its overall visibility in Google rankings."
Schema & Structured Data for WP & AMP adds Google Rich Snippets markup result according to Schema.org and google ranking guidelines to structure your site for SEO.
How to Add Schema Markup to WordPress
If you want to add schema for Job listing, Product, Faq, Breadcrumbs, Organization, and news article you can add custom schema markup code in the post/page. 
Examples In the following step
Step#01:
Install the Schema & Structured Data adds Google Rich Snippets markup plugin by (Magazine3) according to Schema.org guidelines to structure your site for SEO. (AMP Compatible).
Step#02:
Go to use the TechnicalSeo tool to create JSON-LD markups, including all of the required item properties and more. Click on the Google icon to test your markup with the Structured Data Testing Tool and/or the Rich Results Test.
Step#03:
Unlimited Custom schema types you can control to represent the Rich Snippets data using unlimited pages, post types from TechnicalSEO tool, and paste here.

Yoast WordPress SEO plugin
Yoast SEO is one of the most popular WordPress SEO Yoast plugins, with more than 5 million active installations. Its most active feature with user-friendly interface, which allows a WP beginners friendly instinctive. Another best SEO feature of this plugin is its on-page content analysis i.e. focus keyword density, Keyphrase length, outbound links, auto internal link suggestions, Yoast breadcrumbs,  and readability analysis that makes your posts SEO optimized before publication.
Key features
I -Pros
The plugin provides a two snippet preview at the bottom of the page where you can see how your post will appear in the Google search engine and second is Yoast readability analysis.
You can improve user readability with Yoast plugin by finding out Flesch Reading Ease, Subheading distribution, Sentence length, Transition words, Passive voice, Consecutive sentences, and Paragraph length.
It automatically generates a yoast sitemap for pages, post, taxonomy, and archives so that the search engine crawlers could crawl your content easily.
Easy customizable snippet for Twitter and Facebook post sharing.
Yoast plugin safely monitors indexability issues and timely information on the dashboard via yoast notifications so you could fix.
II – Cons
The inability to control the structure of your site. Here are some disadvantages
No advanced features are allowed with a free version.
Not best practice for Schema data structure.
Unable to define canonical URL's
Need premium version for advanced SEO settings.
III – Pricing
You can download it for free from wordpress.org.
Rank Math WordPress SEO plugin
Rank Math SEO plugin is another outstanding WordPress SEO plugin that is growing extremely installation in the WordPress market.  Here are some of the key features of the Rank Math plugin. It's also available as Rank Math free version in the WordPress repository.
Key features
I -Pros
A free setup wizard to complete the step-by-step installation and configuration.
Controlling and upfront user-friendly interface.
Google search engine console integration
Easy keyword research with Rank Math tool.
404 error monetization to fix any issue.
Automatic addition of Alt text to your images.
Fully compatible sitemap and auto-generate it.
It comes with rich snippet/Schema markup support.
II – Cons
The plugin released too early without any proper Rank Math review/revision.
Some of the redirecting units may not work
SEO analysis has limited documentation.
No Google news sitemap feature
No keyword research feature.
No rank math pro version where features could be modified.
III – Pricing
It's free and pro to download.
All in One SEO Pack WordPress plugin
Plugin All in One SEO Pack created by Michael Torbert in 2007 since then it has been over 2+ millions active installations. The trending of this plugin is primarily for its user-friendly interface and easy featured. It is also available with advanced features in All in One SEO Pack pro version.
Key features
I -Pros
The All in One SEO Pack Plugin dashboard allows the user with standard settings on a single homepage.
Hovering Help icon on each selection types it very user-friendly
Advanced support for WooCommerce plugin products and product archives listings.
Comes with Advanced Google Analytics tracking display.
Access to pro support forums
Generate an XML sitemap and submit to Google search console .
 
II – Cons
In free version most of the advanced features are not available for free, and to unlock these features, you have to buy the pro version for $79.
III – Pricing
The basic version is free of cost available in the WordPress repository.
The progressive pro pack version comes with a video sitemap, eCommerce SEO functionality, and one year technical support for $79.
SEOPress WordPress SEO plugin
SEOPressor plugin is comparatively newer yet it is very useful and can be the best alternative to Yoast SEO plugin with recovering features, and you can install it on unlimited websites also. Both the free and premium version is available with amazing features. Its optimized code, and unlike the Yoast plugin, it does not slow down your site's speed.
Key features
I -Pros
SEOPress is a lightweight WordPress SEO plugin to rank your SEO, boost your traffic, increase SERP ranking, improve social sharing, build custom HTML and XML Sitemaps, create breadcrumbs, add schemas / Google Structured data types, manage 301 redirections and so much more.
User-friendly interface and easy to install.
Outstanding managing of titles and meta description
Generate an XML sitemap and auto submit to Google search console for better content research
Supports Broken internal and external link checking
Comes with URL Redirect tool
Google news sitemap feature
404 error monitoring tool
II – Cons
A bit newcomer in the WordPress market and is designed by a new developer so unaware of the authenticity and review of the product.
III – Pricing
It starts only at an affordable price of $9/month for unlimited domains.

.
Links Whisper is smart SEO resourcing WordPress plugins powered by artificial intelligence strategies, Link Whisper starts suggesting relevant internal links when you start writing your article right within the WordPress editor. Depending on how many articles, pages, or archives you have on your site or blog and the relevance of your existing content, Link Whisper will suggest dozens or more internal links from the content you can real time editing.
Key features
I -Pros
Internal Links Reporting
Automatic Links From Keywords Of Your Choice
Automatic Link Suggestions As You Write
Fix Broken Links
Add Target Keywords For Even Better Internal Links
Get Traffic Data From Google Search Console
Get Internal Link Suggestions For Other Sites You Own
II – Cons
Auto internal linking is not case-sensitive.
Very irrelevant link suggestion and slows down the website.
III – Pricing
It starts only at an affordable price of $77 for one domain .

.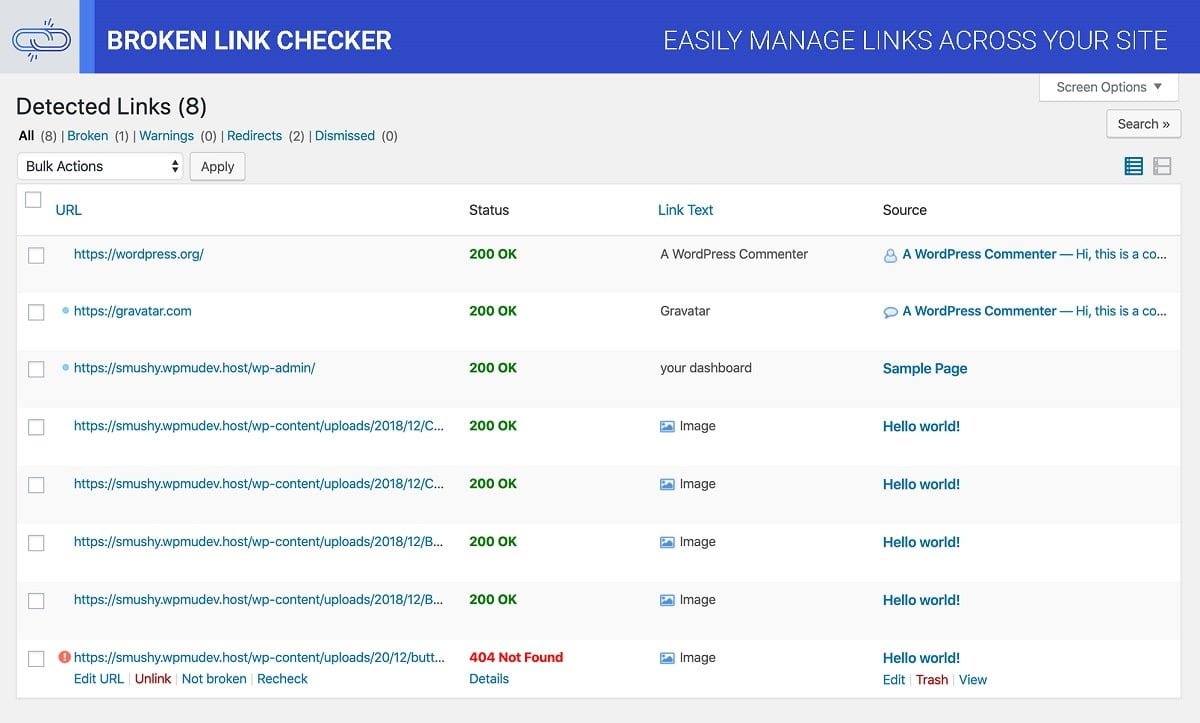 Broken links checker plugin can list some broken/401 not found URL in your WordPress website. While it might not appear like a big deal having a link or two on your site that doesn't work to any further extent, those 404 links may be harming your search engine rankings and google crawler seem as spammy content.
But no matter the number of pages or post of your website, checking individual broken links manually is an unsuccessful and time-consuming task.
Moreover, the Broken Link Checker plugin one of the most valuable SEO tools available with more than 70,000+ active installations. It will check your website for broken external and internal links, and notify you of any issues so you can make needed unlink or redirect it just in one click.
It gives users the ability to monitor links in posts, pages, archives, taxonomy, comments, and even custom fields, and automatically detects any link that's 404, 401 or other redirection errors.
Key features
Monitors external links and internal links in your posts, pages, comments, the blogroll, and custom fields (optional).
Detects links that don't work, missing images and redirects.
Notifies you either via the Dashboard or by email.
Makes broken links display differently in posts (optional).
Prevents search engines from following broken links (optional).
You can search and filter links by URL, anchor text and so on.
Links can be edited directly from the plugin's page, without manually updating each post.


.
Wrapping up things
So here ends my conclusion of the best WordPress SEO plugins. I know it's very easy to find out the best fit for your SEO functionality needs, but you know how crucial it is to manage your on-page SEO is to compete with your competitors so, you should find out which WordPress SEO plugin suits your needs the most.
For Seo Analysis
My vote goes with the Yoast SEO plugin.
For Schema JSON-LD Structure
Schema & Structured Data for WP & AMP By (Magazine3) With the using of TechnicalSEO tool.
For automatic link suggestions as you write.
Links Whisper is smart. Powered by artificial intelligence, Link Whisper starts suggesting relevant internal links when you start writing your article.