Are you trying to find the best WordPress social media auto post plugin? Hold your time, for we're almost to review the ultimate WordPress plugins for social media automation! Tap this page to detail the complete FS Poster WordPress Plugin review i.e. automatically post to Facebook from WordPress and other networks.
You can't ignore the greatness of social media marketing these days. However, handle and share your business on multiple social media webs in just one click without visiting the linked social webs.
So, what is the solution to the social media auto post WordPress plugin? The fs poster WordPress is the answer. FS poster plugin is an outstanding tool for your WordPress post scheduling/rescheduling in social media websites, writing a large number of posts, and accomplishing your social media marketing objectives.
Must Read: Best Image Compression WordPress Plugins
Let's review the FS Poster WordPress Plugin and its functionality in the following detail.
Let's get started!
What is the WordPress Plugin for Social Media Auto Posting?
A plugin called FS Poster that's auto-shares blog articles, pages, taxonomies, and templates from your website/blog to different social media webs.
Only set, a blog post, it will be directly sent on Pinterest, Twitter, Instagram, and automatically post to Facebook from WordPress.
Furthermore, these WordPress automatic plugins hook the post title, post Link, description, and feature image while posting your article. This share includes complete data in social media, where your potency to reflects ranking your Blog or website.
FS Poster – WordPress Social Auto Poster & Scheduler
You'll need to link your social media accounts using the APIs or cookies method once you've installed and activated the FS Poster plugin via Item Purchase Code. To allow this plugin access to your social network profile, simply click on the relevant social media platform>click Add account> follow the account. It's simple and quick.
Introduction Video
FS poster plugin server requirement
To install and use FS Poster, your server must meet the following prerequisites.
| | |
| --- | --- |
| PHP version | The minimum required PHP version for this plugin is 5.4. Note! If you use Instagram then the minimum required PHP version is 5.6. |
| MySQL version | The minimum required MySQL version for this plugin is 5.5.3. |
| MySQL user permission | CREATE TABLE permission required |
| cURL | PHP cURL extension must be installed and enabled. |
| EXIF | PHP EXIF must be installed and enabled. |
Read more… Best Plugin to manage tables in Elementor
How Does It Work?
You'll need to connect your social media accounts using the APIs or cookies method once you've installed and activated this FS plugin. To allow the plugin's admittance of your social profile, just click on the related social accounts, click Add Account, and follow the reminders.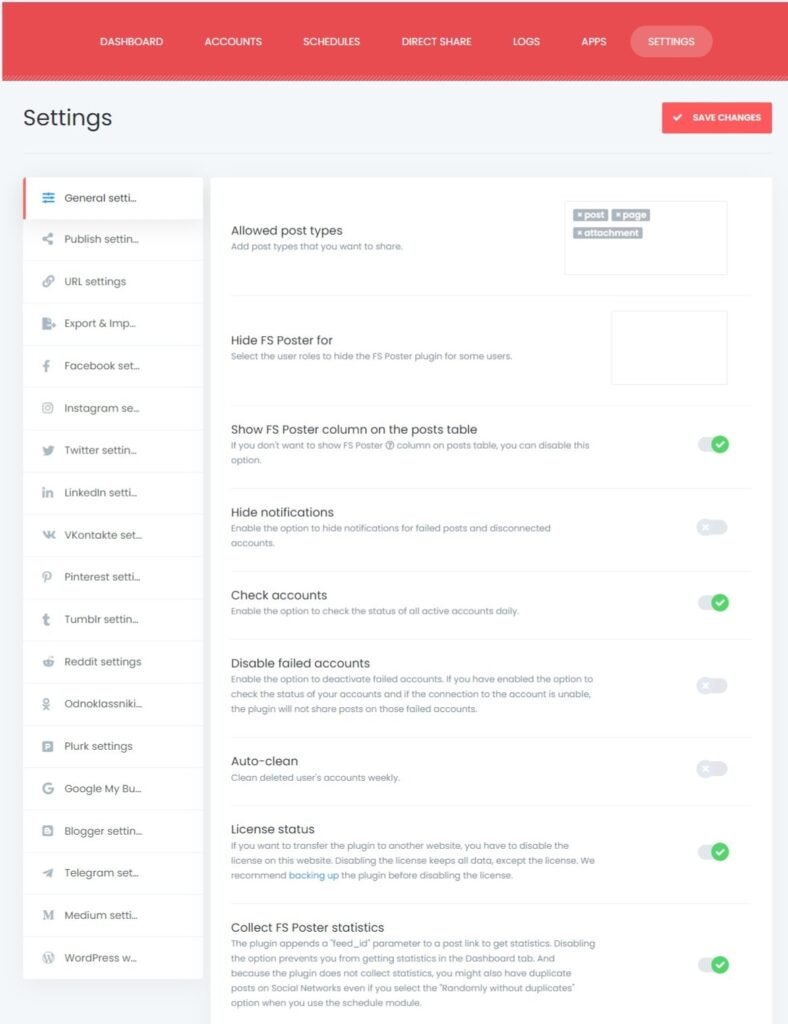 FS poster plugin Main Features
The fundamental scheduler FS Poster Plugin upholds 15 interpersonal Social networks, permitting you to grow your reach and boost your SEO by attracting more clients to your site. Custom postings for each account can be made with the use of third-party reconciliation tools.
With unlimited post sharing, you'll be able to maintain a consistent online presence and meet your social media marketing objectives. With platform-based performance comparisons, post engagements, and click counts, real-time statistics evaluate your social media strategy.
15 social networks integrated
Auto-post New Blog Posts
Bulk scheduler Campaign
Calendar view
Customize Auto Post URL
Customize Post Messages
Direct share panel
Filter Auto Post By Categories
Insights Dashboard
Logs Record
Posting Interval feature:
Proxy support
Schedule posts
Supports all custom post types
Supports unlimited
Supports WordPress Multisite Feature
Tracking Link Clicks
WordPress Emoji Supports
WordPress tags and categories
Must Read: Mailster WordPress Plugin 
Social networks that are supported by FS Poster
You'll be able to simultaneously publish your posts/pages/products to 15 social media platforms:
Facebook
Google My Business ( locations )
Instagram (stories )
Linkedin (companies )
Medium ( publications )
OK.ru (groups )
Pinterest ( boards )
Plurk
Reddit (subreddits )
Telegram ( chats, channels, groups )
Tumblr
Twitter
VK.com ( pages, groups, events )
WordPress based sites
Why purchase FS Poster Scheduler
There are many proof FS poster but here we listed the main benefits:
Make the save of your time. You will be capable to save the working time by auto-sharing your WordPress content. automatically sharing your WordPress content by Improving the site's search engine optimization you will be able to boost the number of social media links to your website. (read… Best WordPress SEO Plugin)
Maintain a lively social media presence. Using the calendar feature, you'll be able to keep your social profiles filled by updating the posting regularly.
Increase the number of visits to your website. More shares will increase the traffic by increasing the clicks on your social URL.
Encourages adaptability. For each account, you may construct keyword -based sharing and attach them to the related social media posts.
APIs and tracking. Through FS Code scheduled postings tool, the social media platforms evaluate the performance of each added network and account.
Related article: Mailster WordPress Plugin for Newsletter
Is FS Poster Plugin free?
The FS Poster plugin lite version has various valuable functionality and is also available for free to all WordPress users: Manage all web-based social media accounts at the same time by creating one account for each social media platform.
How to install FS Poster WordPress Plugin?
Select the fs-poster.zip file and tap the upload button. Installing the plugin takes less than one minute. The "plugin installation complete" notice will show up once the process is finished.
FS Poster Plugin Complete Setup Video Tutorial
Final Verdict
If you have any desire to attract the target audience to your site, you should share your WordPress blog in all 15 social accounts. However, sharing them just once isn't sufficient. Assuming that you need those connections to work, you'll need to share the posts many times. FS Poster plugin must save you time via auto-sharing new content and empowers you to re-share them consistently.
Read more… Best WordPress SEO Plugin
Overall, FS Poster is a fantastic plugin that will assist you in maintaining an active social media presence while also allowing you to spend more time communicating with your followers and industry influencers.
While you might be induced to trial a free Social poster plugin, recollect that this is a one-time charge. Most of the social media schedulers that achieve exactly the same thing charge a month-to-month fee. In view of that, the FS Poster WordPress plugin is worth investigating to mechanize social sharing, change your informing, track execution and snaps, and do so across the social place.
This article was publicized by Web Development Company (OzairWebs)