Managing online game accounts might be difficult at times. However, with the proper steps, it becomes a simple operation. In this blog post, we'll look at Evony, a popular online multiplayer game, and how to transfer evony account to another, maintain, and even sell your account.
Game Overview
| Information Category | Description |
| --- | --- |
| Game Title | Evony: The King's Return |
| Developer | Top Games Inc. |
| Platforms | iOS (App Store link ), Android (Google Play link ) |
| Game Genre | Strategy |
| Release Date | 2016 |
| Website | www.evony.com |
| Social Media | Facebook , Twitter |
| Support | Evony Support |
| Download Size | Varies with device |
| Age Rating | 12+ |
| In-App Purchases | Yes |
| Languages | English, Arabic, French, German, Italian, Japanese, Korean, Portuguese, Russian, Simplified Chinese, Spanish, Turkish |
| Game Description | A real-time strategy game in which you must construct towns, train armies, develop your empire, and conquer the City of Thrones in order to become King. |
How to Transfer Evony Account to a New Phone
The process of transferring an Evony account from one phone to another is straightforward.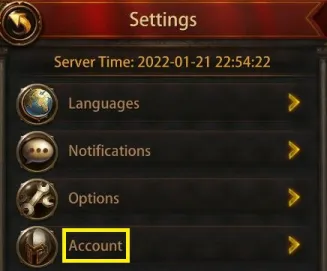 Here are the steps:
On your old phone, make sure that your Evony account is linked to a Google Play or Apple Game Center account.
Download the Evony app on your new phone.
Open the app, go to 'Settings', and click 'Account'.
Select the option to log in using Google Play or Apple Game Center (depending on what you used).
Your account should now be accessible on your new phone.
How to Transfer Evony Account from Android to iPhone (or vice versa)
The process of transferring an account from an Android device to an iPhone (or vice versa) is a little more complex but still feasible.
On your Android device, link your Evony account to a Facebook account via the game settings.
On your iPhone, download and open Evony.
Navigate to the settings menu and select the option to log in via Facebook.
Upon successful login, your game data should sync with the iPhone.
This process works the same way if you're transferring your account from an iPhone to an Android device.
Selling an Evony Account
While selling game accounts can breach the terms of service of many online games, if you've decided to sell your Evony account, it's important to do so responsibly and securely.
Make sure you remove any personal information from the account.
Find a trustworthy platform or person to sell the account to. Always exercise caution and use reputable platforms when selling an account.
Provide the purchaser with the necessary information to access the account.
Remember, selling an account is a grey area and can potentially lead to the account being banned. Make sure you read and understand Evony's terms of service before proceeding.
How to Unlink Evony Account
If you've linked your Evony account to your Facebook or Google Play account and wish to unlink them, follow these steps:
Open Evony and go to the 'Settings' menu.
Select 'Account' and choose the option to log out. This will unlink your account from the device.
To unlink from Facebook:
Log into Facebook and go to 'Settings.'
Click on 'Apps and Websites.'
Find and select Evony, then click 'Remove.'
To unlink from Google Play:
Go to the Google Play Store and click on 'Account.'
Click on 'Connected Apps.'
Find and select Evony, then click 'Disconnect.'
Evony Freeze Account Information
Typically, freezing an account means temporarily deactivating it with the opportunity to reactivate it later. You can choose not to log in for a set length of time, but the game does not include a 'freeze' option. Due to game policy, your account may be deactivated if it is inactive for an extended period of time. Check the most recent terms of service or contact Evony's customer support for the most up-to-date information.
Conclusion
To summarise, managing your Evony account entails learning how to link and unlink your account from multiple platforms, how to transfer your account between devices, and the repercussions of selling your account. As always, make sure you understand and follow the game's terms of service to avoid problems and keep your gaming experience enjoyable.