Web design skills may seem complicated and too technical for non-specialists, but owners should be familiar with some aspects of their website. It is understandable that owners are more focused on posting content, shifting the responsibility of the design to the experts. Learning to edit your website gives you better control of your site's performance, and this will help you to achieve your targets faster. The piece below will answer the question of exactly what is web design and give you a picture of what a website entails.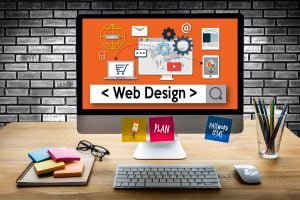 The first thing you need to know when designing a website is the structure or wireframing. Also referred to as the schematic blueprint, it is the visual guide that represents the skeletal framework of any site. The wireframe has three different elements which are the information, navigation, and interface designs.
What should I study to become a web designer?
Getting the perfect design is a process that first involves picturing the site in your mind and noting your ideas on paper. Once the plans are noted down, you should try to find a perfect layout, select your typography, select a color theme and sketch a top-level framework. Once all these are put down on paper, go ahead and rethink the noted things and change anything that seems odd.
Responsive Web Design (RWD) and User Experience
When designing your site, keep in mind that it should be responsive to people using different devices. In recent years, mobile searches have surpassed desktop ones, and you should optimize the site for these gadgets.
This aspect is referred to as the responsive design which entails fluid grids, flexible images, and media queries. A non-responsive website is very slow to load and makes it hard for people to read the content on devices that are not supported.
User interface design
Web design should be centered around the user experience, and at times, it may be necessary to find a compromise between aesthetics and functionality.
This introduces the flat design which refers to simple, clean, colorful, modern, and trendy website designs. While such designs are simple for users, look more honest, and offer faster load times, they have some disadvantages. The demerits are that they may be dull and different from what people are accustomed to.
When working on the user experience and interface, you should keep some fundamental principles in mind. The design should focus on the experience and maintain a fine balance between creativity and common design patterns.
Eye-catching Websites
Design to attracts the user's attention and remember that scrolling is way faster than paging.
When trying to come up with the perfect design, take note of the things that you should avoid completely. Avoid placing boxes all around the website as well as irrelevant advertisements all over. Do not mix too many colors and avoid posting very long content. The content posted on the site should be informative and precise. On the other hand, you should focus on killer content and publish the content written using the write fonts and sizes. Make it simple to navigate through the site and find a consistent color scheme that makes the site visually appealing.
It is evident that switching from being an entrepreneur to a designer is a huge task. The huge work that involves learning commands can take a lot of time for one to master. However, you can understand the few obvious things about what is a web design and be in a position to take charge of your online platforms efficiently.
Learning Web Design Online
Web design is the way of the future and it's an important skill to have under your belt. This is a great resume-builder and is a way to maximize your approach to the online world whether you're building a personal website or someone else's.
So, where does a person go to learn web design online?
Here are the top four options available to modern-day students looking to optimize their skillset and become quality web designers.
Lynda.com
Wide Array of Courses
One-Time Payment
Organized Segments
Accessible on All Devices (MAC, PC, Mobile Devices)
Knowledgeable Instructors
Lynda is a well-rounded platform and has a wide array of courses that provide students with the opportunity to learn web designing. These courses are taught by trusted and seasoned instructors that have been doing this for years and that does offer advantages. Lynda is a unique setup since it requires a simple one-time payment and everything is beautifully laid out. Students are able to sign up for the course and gain access to modern material without having to find additional sources. This can help act as a launching pad for one's web designing journey, which is why Lynda is an appreciated choice among professionals.
Udemy.com
Robust Course Catalog
Detailed Content (Videos/Guides/Ongoing Advice)
Comprehensive and Engaging Assignments
Reviewed Courses
Udemy is the king when it comes to the online learning platforms and is often mentioned before anyone else. It provides a range of advantages when it comes to learning web design online and that includes a great list of courses in the niche. However, its courses vary in quality and it's important to read the reviews to pick out the gems. When you do find a gem, the quality is unbeatable since the level of detail can become mesmerizing to new students. The layout is great, the prices are fair (each course has individual prices), and the assignments can be fun. If you are looking for an engaging platform that is power-packed and reputable then Udemy is a meaningful fit. It does provide the quality most people are on the lookout for as new students. If you prefer to save some cost, simply looking for a valid Udemy coupon code that has been distributed from time to time.
Teamtreehouse.com
Basic and Pro Plan (Monthly)
1,000+ Courses
Designed for Online Subjects (Coding, Designing)
Supports Various Platforms (PC, MAC, Mobile)
Team Treehouse is a unique platform as it is designed for online subjects such as coding and has been around for a while. This is a world-class option since the quality of each course is excellent. You are going to find the courses easy to follow, well-managed, and engaging from day one. The best part about these courses is how entertaining they can be once you get into the thick of things. This can be a good way to learn how to web design online.
A simple monthly subscription is offered based on the plan chosen (Basic or Pro) and that offers access to all courses at once. It's all about enrolling and beginning the journey as a future web designer. This can be a good launching pad for students.
Codecademy.com
Good List of Courses
Free
Dedicated Forums
Engaging Exercises
Codecademy.com is a good fit for those looking to save money and still learn web design online. While the other platforms may set a price tag on their courses, Codecademy.com does not and that is beneficial to a lot of people. In addition to the great price tag, it is also filled with quality web design courses that can help one move towards a well-rounded resume. If the goal is to build on your skills and become knowledgeable then this is a great option, to say the least.
Codecademy.com has been built from the ground up as a learning platform and offers access to some of the best and most engaging activities in each course. This can help nail down the core components of each course and get a better grasp of how web designing works. While it doesn't offer access to video content, it does deliver great guides and activities that can build your ability to design.
Final Thoughts
It's important to note each one has its pros and cons, which is why it's best to focus on what works best for your needs. Students hoping to learn more about web design cannot go wrong with any of these platforms as they bring something unique to the table and offer a lot of value. Start to work towards building a better skillset with the help of these platforms as they offer considerable quality and are going to make you better at web designing over time. This is the chance of a lifetime to build up your resume.
Web designing is all about soaking in the details, understanding how each aspect works, and then applying your knowledge. These platforms are all able to deliver great value and are a good starting point.